Types of sandboards and the best technologies in the world
Did you know that there are  types of sandboards with different technologies from basic for tourist to the high performance for athletes ?
Before we start let us define sandboard for you because it usually gets misunderstand. You can understand sandboard as the sport that involves descending a slope of a sand dune standing on a board. sandboard is also the special deck that is used for the sport, it usually is a snowboard with a Formica glued to the base or a real sandboard deck for high performance. Also a rider is the person that rides a sandboard.
According to the performance that we want of the deck we have this 3 different kind of sandboards:
Artisan sandboard: Or Sand sled, using a basic handmade and rustic deck or sled over a small dune slope where you can go on your chest or sitting on it.
Semiprofessional sandboard: Using a medium performance handmade deck with Velcro or similar with pads that are used as bindings ensure you go up on your feet and learn the basics of the sport.
Professional sandboard: Using a snowboard or a sandboard deck with the snowboard technology, the board has the same inserts which allows snowboard bindings to be placed. Riders use trekking boots or snowboard boots in order to ensure more control and performance.
Now that we know the basics of Sandboarding, let's find out more about the companies that actually commercialize sandboards and the comments of renowned Sandboarding riders to get to know what they think about their products.
Venomous Sandboards: Located in Oregon, United States and  very well renowned around the world by  the work of Dr Dune as part of the Venomous Team, this company has sand sleds and sandboards made for every type of rider.  They have a perfect Sand Sled to go down sitting very comfortable but they also have a high performance sandboard the Free rider 149 which they call a full size sandboard similar to a snowboard and it comes just the deck itself but most snowboard bindings will work flawlessly with this board. Venomous sandboards says "Our mission to keep pushing the level of quality, durability, speed, maneuverability, comfort and affordability to the next notch. In essence we are determined to keep making the best sandboards and sleds money can buy". This company is the oldest sandboard company in the world and has support and sponsored events and produced champions too since 1991.

Venomous is proud to offer the Sport in a 130 cm length for a ride even closer to snowboarding.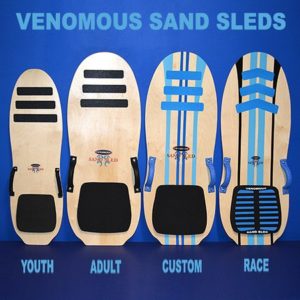 Find out more about Venomous Sandboards here:  Venomous Sandboards
Aia Sandboards: Located in Florianopolis, Brazil. This is the brand that most riders sponsors (10) including our most representative snowboard rider Victor (Dito) Chavez.  Aia Sandboards believes in and applies the snowboard technology for the progression of his sandboard decks and the unique composition of the decks make Aia sandboards stand out. Martim Amaral founder of the company tells us "Our sandboards are tough (since 2006) to reach high performance. That's why we started making decks for the best performance of the sandboard athletes. We obviously knew that our boards should use snowboard bindings since the beginning. We love snowboarding too that's why our products have the snowboard technology and we continue the development and improvement of the design of the construction that has changed a lot  in this 11 years of work.  Aia Sandboards has different types of decks and models of sandboards for people that is beginning in the sport and for the high performance athletes that are craving to progress the sport. Aia sandboard has designed a free ride board with the name of the longest descent in the world "Toro Mata" which is located in Peru, this is the Toro Mata 156 sandboard.
Clenilson Silva – profesional sandboarder says "The decks are high quality and of great performance, from amateur to professional, I have one for 7 years and has never broken. Aia Sandboard has created a deck that is call SandSnow, when a deck is professional, it is made for all the modalities of Sandboarding"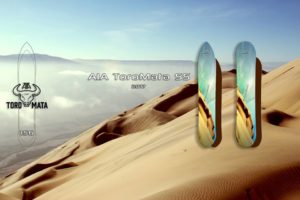 Get to know more about Aia Sandboards here: Aia Sandboards
Above Sandboards: Located in Dubai and founded by Simon Hunt who learned to make sandboards back in Australia in the 90's and after moving to Dubai, the market demand and the passion for the sport pushed him to make sandboard reaching a great progression. "Our passion to develop product to push the sport to new levels" Above sandboards is using new ways for deck construction and new materials. They want to make the best sandboards and the fastest on the market. So the riders can go higher and faster. Simon tells us that the decks are made to really receive the impact of the landing of a pro rider. Above sandboards has sand sleds, semiprofessional sandboards and professional sandboards for high performance sandboarders.
Jose Martinez– Proffesional sandboarder says "I agreed on the sponsorship of Above sandboards because I saw that Simon is a person that really cares about the sport and doesn't just want money because that doesn't help the progression of the sport. Also Simon is pasioned about Sandboarding and we both  dreamed about building the best sandboard deck, there are a few brands in the market but are not as fast as I need them to be for the modality that I practiced which is free ride. So together we created and tested the Jose Martinez 158 pro"
Bruno Sales told us "the  Afifi Pro deck is perfect for big air, its flexibility makes you feel a soft landing
Find out more about above sandboards here: Above Sandboards
Nomada Sandboards: Located in Lima, Peru. Abraham Frettel (Frost) is the first entrepreneur who has got inside the sandboarding world as a rider and with his company Nomada Sandboards, the only brand in Lima that provides sand sleds and semi professional sandboards to different regions of Peru and abroad.  Nomada Sandboards has the best technology in semi professional decks in Lima, special for beginner to intermediate riders. The decks have side cuts similar to the regular snowboard decks for a better performance of the beginner and intermediate rider when turning. This year they have  a 121 cm  and 133 decks for semiprofessional decks. And they are developing a 143 cm professional sandboard with fiberglass which should be used with snowboard bindings. And also they are developing a 104 cm deck for kids.
Aldo Saavedra – Snowboard Instructor by PSIA-AASI  says: "As a snowboard and sandboard instructor I have always care about the development of sandboarding thought a coherent progression for all kind of people and that's what I found in Nomada Sandboards. Decks that are tough for riders with a good performance for beginners and intermediate riders, I personally ride Nomada a lot and our sandboarding school Lima SandSchool has it as the official sandboards this year."
More info about Nomada Sandboards here : Nómada Sandboards
There is no doubt that the sandboard world has grown and the development of technology delivers new tools for the best performance of the riders and the joy of tourists. We love all of this sandboard decks and we are impressed by the passion these companies put into their work, which motivates us to continue pushing the sport and the development of sand sports in Huaral and Peru.