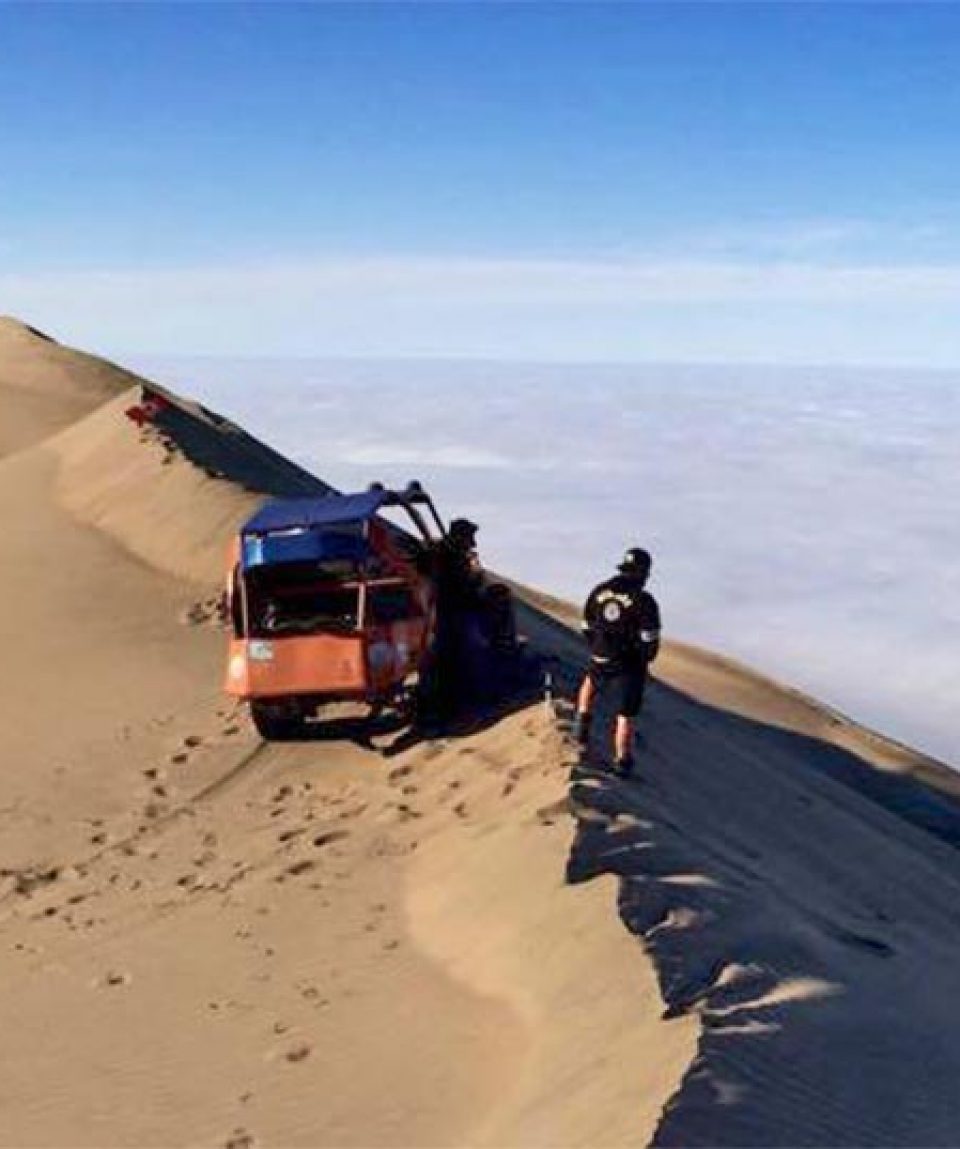 BACKCOUNTRY SANDBOARD IN TORO MATA – AREQUIPA
from
Ride the backcountry in Toro Mata, the dune with the longest descent in the world. The ultimate thrill for experienced  and enthusiastics of snow sports.
Vacation Style

Holiday Type

Active, Journey, Private groups, Young

Activity Level

Challenging
All about the BACKCOUNTRY SANDBOARD IN TORO MATA – AREQUIPA.
This is a trip to the ultimate sandboard destination around the world.
Starting early and going 345 miles south, we will head to the land of the eternal sun, Ica. We will make a stop to grab a local breakfast. Then we will go to Paracas and go boating to ballestas islands to get see and enjoy its enormous wildlife.
After that, we will head to a local winery to learn about the wine and Pisco tradition and of course taste all of them. We will pair them with best local dishes.
In the afternoon, we will go to the Mecca of sandboarding, Huacachina where we will get the equipment and the basic instruction to warm up and ride the dune buggy all around the extensive desert. We will ride some dunes to get conformable and safe on the sandboard. We will enjoy the sunset and have dinner at the oasis.
Next, we will go to Acarí (Arequipa) and stay in a conformable hotel. We will head out early the next morning to the Toro Mata the dune with the longest descent 5095 feet. We will do some runs in other dune slopes before hitting the Toro Mata where we will be above the clouds and our instructors will show you the way down, this is a unique lifetime experience dedicated for snow sports enthusiastic.
We will enjoy a local dish from Arequipa for lunch and return to Lima.
The tour package inclusions and exclusions at a glance
What is included in this tour?
Items that are included in the cost of tour price.
Pick up at 4:00 am. and drop off
Ballestas island tour
Vineyard visit and tasting
Sandboard session in Huacachina
Professional sandboarding equipment
Off road in sand dune buggy
Qualified instructor
Local sweet treat
Snacks and drinks
All meals
GO PRO videos  and pictures
First aid kit
If you are experienced, it would around 5 minutes. We usually break it down to take ensure we guide you through the terrain and take pictures.