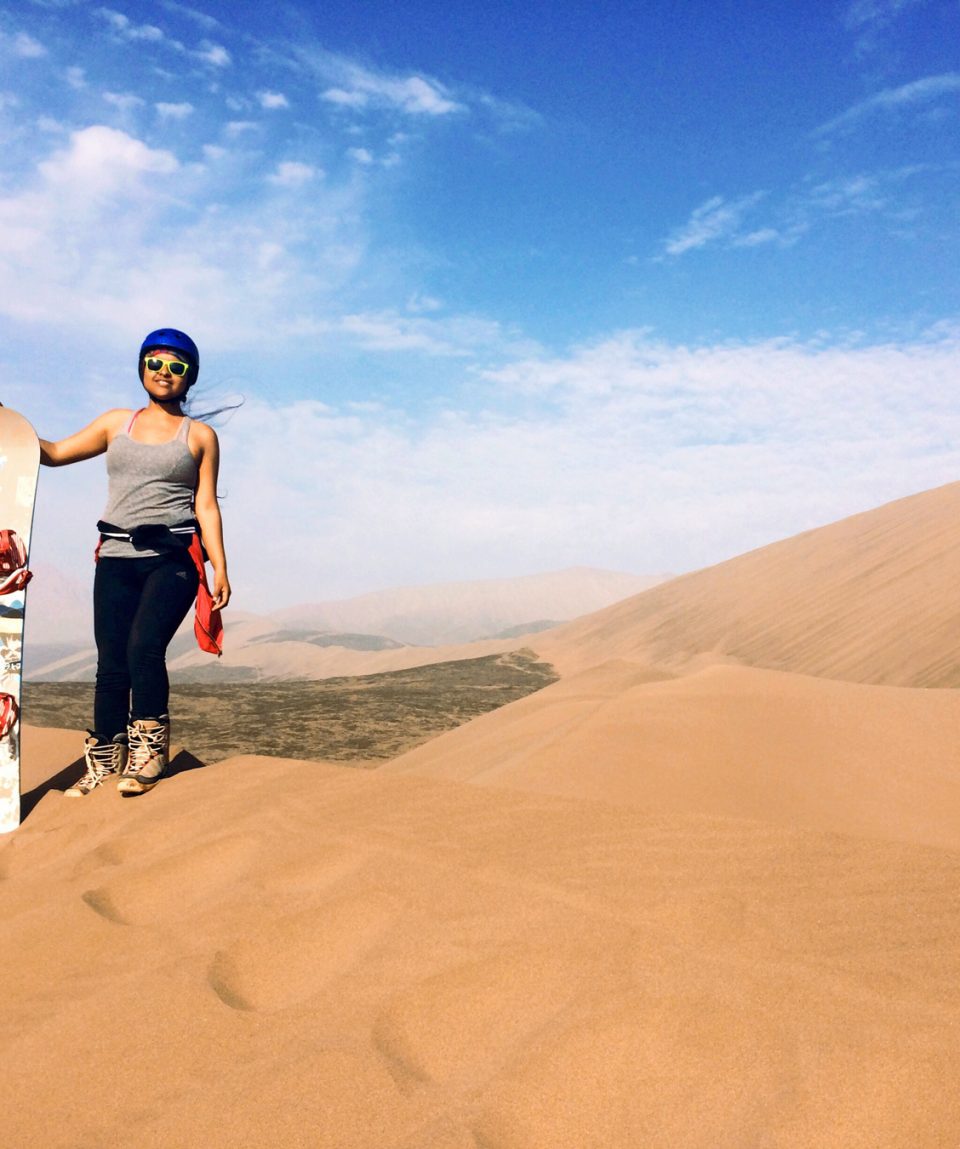 SANDBOARD Y OFF ROAD EN LIMA
No puedes esperar para vivir Lima? No hay mejor forma de disfrutar el desierto que haciendo sandboard y hacer off road en los campos de dunas en 4×4.
Vacation Style Holiday Type

Family, Local, Private groups, Young

desde 1 hasta 20 personas
All about the SANDBOARD Y OFF ROAD EN LIMA.
Este tour de medio día se desarrolla en uno de los más bellos desiertos de Lima. Te recogeremos en una camioneta 4×4, en tu hotel u hogar, y nos dirigiremos al desierto. Surcaremos las dunas haciendo off road hasta llegar a los puntos para la práctica de Sandboarding.
Si no tienes experiencia, no te preocupes. Con el equipo especializado que te proporcionaremos, nuestros instructores te enseñarán los secretos del Sandboarding desde el principio. Ahora bien, si tienes algo de experiencia, podrás diseñar junto a nuestro personal un plan especial para que enfrentes a las dunas más altas de Lima.
Al regreso disfrutaremos de unos dulces típicos locales para tener un viaje placentero.
The tour package inclusions and exclusions at a glance
What is included in this tour?
Items that are included in the cost of tour price.
Mañana: 7:00 am tour
Tarde: 1:00 pm tour
Recojo y regreso en hotel
Equipo de sandboard profesional
Off road en vehículo 4×4
Instructor calificado
Dulce local
Snacks y bebidas
Videos y fotos GOPRO
Botiquín de primeros auxilios
Pregunta por la sesión de dron.
Sí, tenemos el tour de la tarde con el recojo a la 1:00 pm desde tu hotel. Y los tours de la mañana que empiezan a las 7:00 am.
Por las condiciones del desierto recomendamos ropa deportiva de secado rápido, camiseta de manga larga y sobretodo medias largas deportivas delgadas.
No te preocupes, nuestros instructores trabajaran contigo y te guiaran en tu progresión mientras tú aprendes en un ambiente seguro y divertido. No es muy complicado solo toma un par de descensos para que entres en ritmo.
Absolutamente, nosotros estamos encantados de involucrar a niños en nuestros tours, es como apoyamos al desarrollo de la industria de los deportes de invierno.
Podemos iniciar una lección con un niño de 5 años aplicando la metodología basada en el terreno. Sin embargo si el niño es menor a 5 años y de acuerdo a su capacidad, siempre puede deslizarse echado o sentado en tabla artesanal, es muy divertido.
Sí, es muy parecido. Nosotros consideramos que es su hermano pequeño, usamos el mismo equipo y tú solo necesitas aprender a correr con el peso en el pie trasero para evitar la fricción entre la tabla y arena.