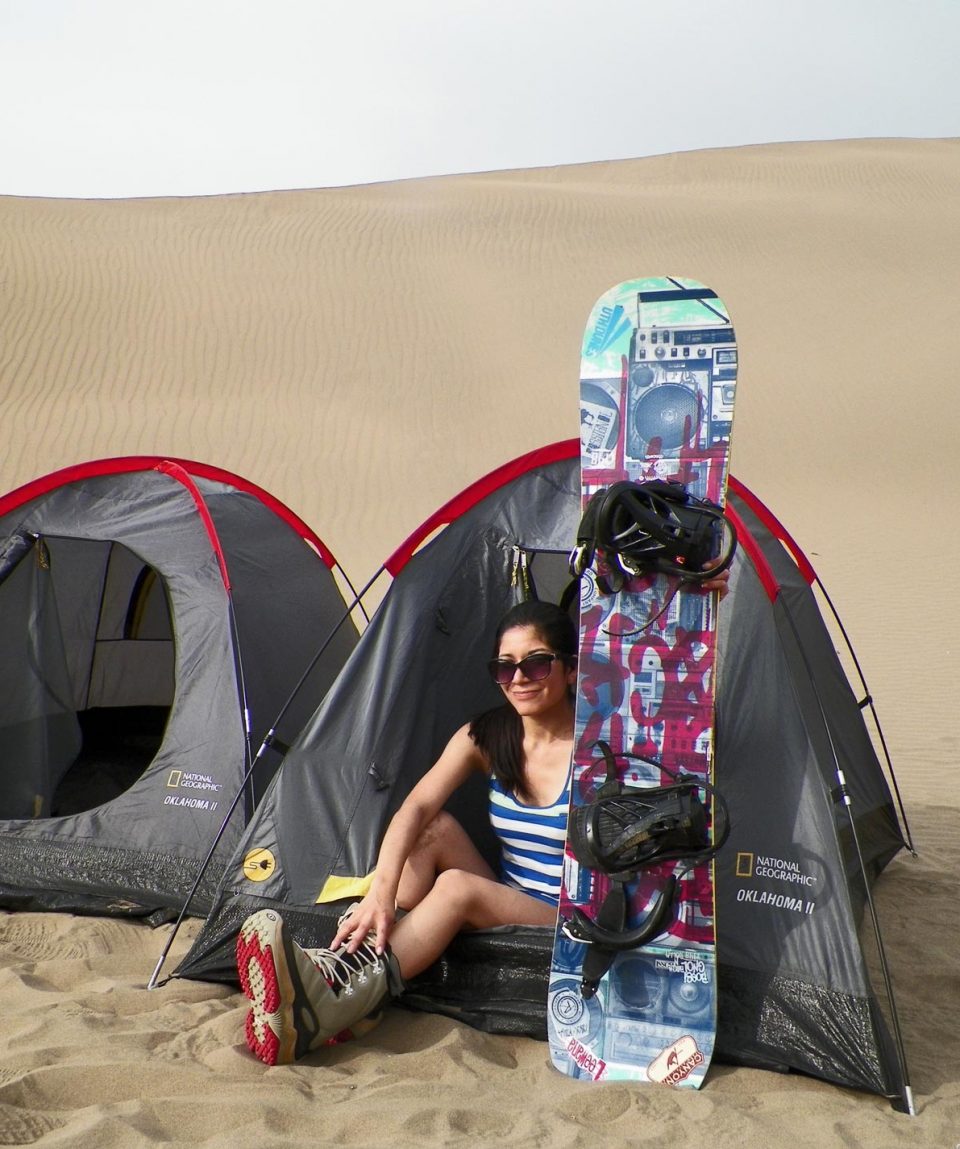 SANDBOARD – SANDSKI CAMP EN LIMA
Porqué hacer solo una actividad si puedes hacer varias y aprovechar tu tiempo. sandski, sandboard, caminata y campamento para los que aman el aire libre.
Vacation Style Holiday Type

Active, Family, Journey, Private groups, Young

Desde 1 hasta 15 Personas
All about the SANDBOARD – SANDSKI CAMP EN LIMA.
Este es un tour de 2 días / 1 noche. Te recogeremos en tu hotel u hogar, y nos dirigiremos al norte, Huaral. Cuidad que es muy conocida por su gastronomía y valles de frutas. Llegaremos a un centro recreativo local para trasladarnos al desierto en un arenero, en el cual, luego de un divertido paseo tendremos una lección introductoria de Sandboarding o Sandskiing.
Por la noche realizaremos una caminata hacia la cima de la duna Aucallama (la duna más alta de Lima), donde  tendrás unas vistas impresionantes del desierto y el valle.
Más tarde disfrutaremos de una cena local. Montaremos un campamento privado con los equipos necesarios para que disfrutes del momento y logrando que tengas una noche de descanso total.
Al día siguiente, después del desayuno, continuaremos con las lecciones, para ello y de forma permanente, nuestros instructores se encargarán de guiarte para que logres los objetivos propuestos y te diviertas al máximo.
Cerraremos la jornada retornando a nuestro punto de partida a la vez que disfrutamos de dulces típicos locales.
The tour package inclusions and exclusions at a glance
What is included in this tour?
Items that are included in the cost of tour price.
 TODO INCLUIDO
Recojo: 1:00 pm
regreso al hotel
Equipo de sandboard semiprofesional
Equipo profesional de campismo y caminata
Cena
Off road en Arenero
Instructor calificado
Dulce local
Snacks y bebidas
Videos y fotos GOPRO
Botiquín de primeros auxilios
Pregunta por: sesión de dron.
La verdad no, pero si desean hacer alguna parada para comprar algún suvenir o frutas recomendamos llevar algo de sencillo.